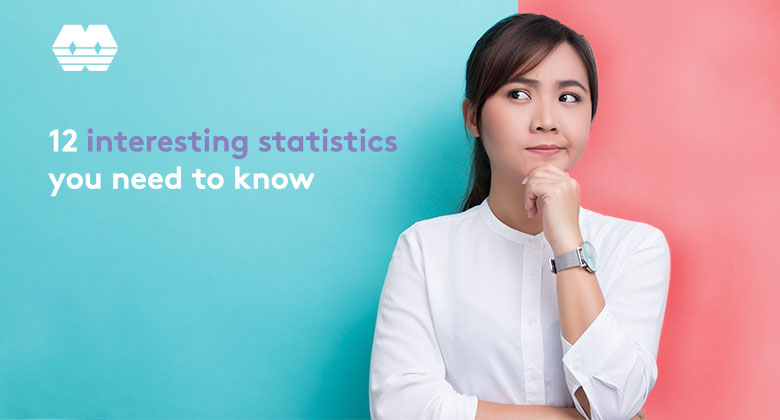 With the dynamic and ever-changing business world; trends, technology and statistics are never stagnant.
That's why it's crucial that you stay up to date with new developments in the market and see where your business sits.
The last thing you want is to fall behind while your competitors stay ahead of the game.
From branding, skills talent and new tech capabilities, creating a strong business brand impacts whether current employees will stay with you and if qualified candidates will decide to join your team – or accept another offer instead.
Here are 12 statistics that might help you as you strategize for 2020 or review your recruiting approach for the coming year.
12 interesting statistics you need to know:
1. You and your business only have 7 seconds for your consumers to form an impression of your brand.
2. It takes anywhere from 5 to 7 impressions for consumers to recognize a logo.
3. By 2022, 70% of enterprises will be experimenting with immersive technologies for consumer and enterprise use, and 25% will have them deployed in production.
4. Only 34% of small businesses invest in video marketing– the most impactful content type. 
5. 82% of investors say name recognition is important in guiding them in their investment decisions.
6. 25% of 2019 online sales in Australia were made through mobile devices.
7. 55% of recruiting specialists around the globe have a proactive strategy for presenting their companies as desirable employers.
Pro tip: Use LinkedIn to diligently promote your business and workplace culture…according to the statistics – over half of the HR managers around the world already do.
8. 64% of consumers say that shared values help them create a trusted relationship with a brand.
9. The #1 obstacle candidates experience when searching for a job is not knowing about the business culture and what it's like to work there.
10. The 4 trends transforming the workplace are soft skills (91%), work flexibility (72%), anti-harassment (71%) and pay transparency (53%).
11. With the rise of AI/automation changing the job market, 92% of talent professionals and hiring managers agree that candidates with strong soft skills are increasingly important.
12. The 2019 global e-commerce market size is AUD$2.8 trillion; 11.3% larger than 2018. By 2021, the market will grow by 25%.
All in all, creating an effective modern experience for customers that fuels the growth of your business brand and marketing boils down to a few key points:
– Get social,
– Be open and transparent and communicate authenticity,
– Focus on your values and how to diligently and clearly present your company to your current and potential staff and customers and
– Invest in technologies that are mobile-friendly.
If you found this blog insightful or have an example of how one of these stats has helped grow your business, leave a comment below.