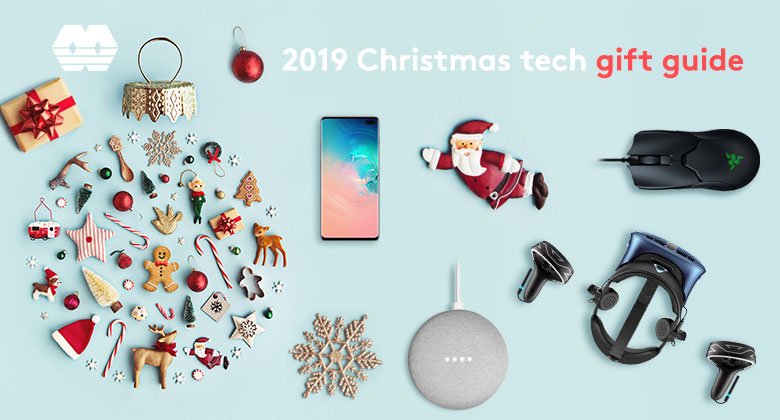 As the Christmas jingles begin to flood our local shopping centres and radio playlists, it's safe to say the festive cheer is well underway.
This also means we're faced with the all too familiar question, "what am I going to get XY and Z this year?".
To help you pick out some gadgetry for your nearest and dearest (and even yourself), here are some devices on offer.
*Note: stick around until the end of the blog for a bonus Christmas gift just for you.
1. Beats Solo Pro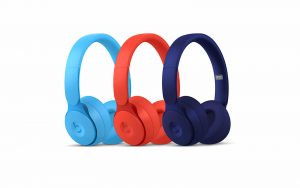 Introducing the new Beats, Solo Pro headphones. Listeners can beat the noise with the new noise-cancelling feature; with more room to create with fully immersive sound. The premium design that comes in several matte colour options, 3 different audio modes and H-1 chip support will make a perfect gift for anyone who loves good music.
2. Razer Viper Ambidextrous Mouse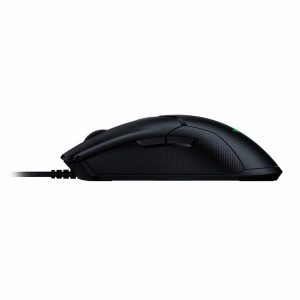 If you're looking for a high-quality gift at a reasonable price that almost anyone will appreciate, you've found what you're looking for. Released just 3 months ago, this mouse is engineered with 99.4% tracking accuracy, a 5G optical sensor for precision and speed-flex cable for greater control.
3. Microsoft Surface Pro 7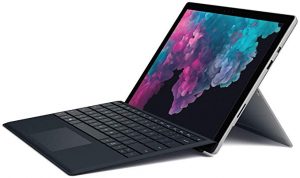 The famed tablet-to-laptop versatility of a Microsoft Surface has been met with better connectivity with the new Surface Pro 7. An ultra-slim and light device now with both USB-C™ and USB-A, the Surface Pro 7 automatically adjusts to lighting conditions and connects to multiple displays, docking stations and devices as required.
4. Laser Navig8r Sports Camera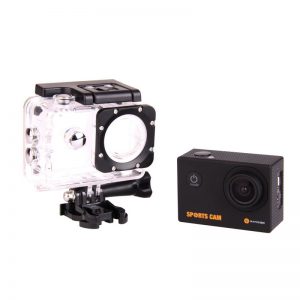 Whether you're out-mountain biking, at the beach, snow or up for your first bungee jump, the Navig8r sports camera captures all the action in full HD at 30 frames per second. This means superior clarity and less blur. Compact in design but easy to use, this sports camera is ideal for action sports and outdoor activities.
5. Google Nest Mini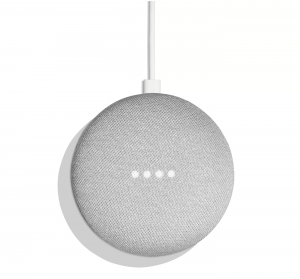 Having trouble finding 'the' gift for an eco-friendly family member or friend? The new Google Nest Mini is made out of eco-friendly materials, powered by a 15-watt power adapter and a 360-degree sound. The added machine learning chip means faster response time to specific questions and more detailed responses to your queries.
Summary: Eco-friendly, efficient and better sound quality.
6. Samsung Galaxy S10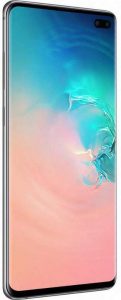 The powerful Galaxy S10 features a cinematic bezel-less screen and three rear cameras to capture your Christmas and holiday memories. A big leap from the Galaxy S8, this model incorporates both an ultrasonic fingerprint scanner, adding better security and convenience, and a headphone socket in the bottom of the phone.
7. HP Chromebook X2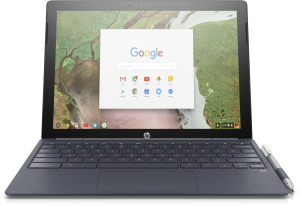 The HP Chromebook X2 combines effective design, performance and a fine display with all-day battery life. The detachable design and a magnetic hinge give users the flexibility to work however they like, with an app-friendly touchscreen for switching between work and entertainment.
8. VIVE Cosmo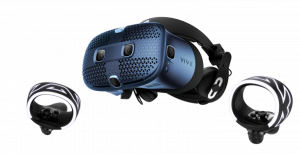 HTC's latest VR headset is a significant upgrade from prior models and here's why. No external base stations, a high-resolution screen, compatibility with the VIVE wireless adapter, high build quality, better ergonomics and an integrated audio system to name a few.
Bring a little extra fun to your Christmas party this year!
Our Christmas gift to you (*Competition closed*)
We would like to make Christmas a little more special this year for one of our special readers.
It's simple.
Share with us, your ultimate Christmas gift by posting on social media using #SynnexAU for a chance to score your very own UBTECH Star Wars stormtrooper.
Don't forget to tag us on the post so we don't miss it!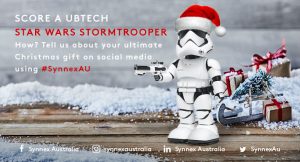 – LinkedIn and Instagram: @Synnex Australia
– Twitter: @SynnexAU
May the force be with you.
T&C's: Available to Australian residents only. Santa hat not included.