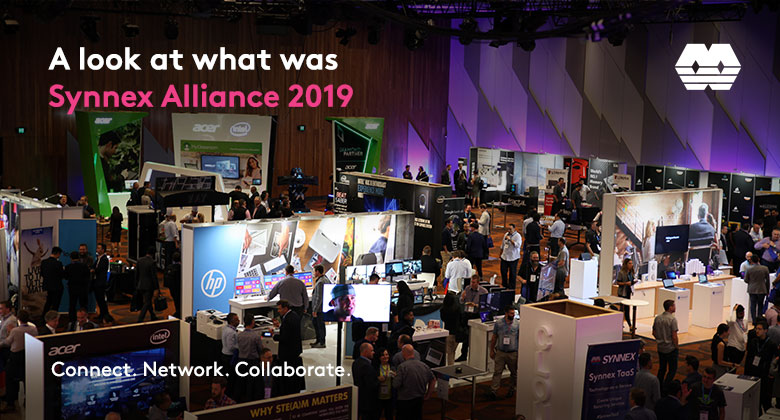 We are proud to partner with market leaders who have taken on the challenge with us to create and share ideas and find new ways to pursue growth.
This was truly felt across all four cities during our #SynnexAlliance2019 events that we wrapped up last night in Perth.
We launched this year's Synnex Alliance events with a 2-minute throwback video capturing what went down in 2018:
Discover more this year as you #connect #network & #collaborate at our national #SynnexAlliance2019 events ✨ Make your mark in the channel in 2019 >> https://t.co/MPcqY2YWZe #SA2019 #SynnexTaaS #Cloud #Education #Gaming #Print #IoT pic.twitter.com/p6iN3YV00J

— Synnex Australia (@SynnexAU) January 16, 2019
Then, you hit the road:
On our way to Synnex Alliance 2019!
Looking forward to the insight offered at the event! @SynnexAU pic.twitter.com/kJEcPTjC1A

— ShieldTech (@shieldtechaus) February 27, 2019
Sat in on our thought-provoking panel discussions:
Opening sessions with James Henderson ARN at SYNNEX ALLIANCE 2019 in Sydney @SynnexAU pic.twitter.com/wsoCrM2Erk

— Lee Scott (@LeeScottAUS) February 27, 2019
Adam Smith, our Senior Sales Executive, was on the expert panel, speaking at the Synnex Alliance event at ICC Sydney yesterday about Technology as a Service (TaaS) and the shifting buying patterns of consumers.#themissinglink #infrastructure #dreamteam #synnexalliance2019 pic.twitter.com/UBASzW7vdh

— The Missing Link (@TML_au) February 28, 2019
Explored our exhibition space:
Great start to the year at #SynnexAlliance2019 learning about new products and technologies. @SynnexAU pic.twitter.com/ild9SK7cKi

— Kong Computers (@KongComputers) February 27, 2019
That's a wrap to #SynnexAlliance2019 Melbourne at @MCEC! What an amazing night ✨ If you used our event hashtag then don't forget to collect your own travel wallet! pic.twitter.com/GdPRIcH9S6

— Synnex Australia (@SynnexAU) March 13, 2019
Interacted with the latest technologies:
Gaming machine @ #SynnexAlliance2019 i dont have the time but i want one. pic.twitter.com/H3gFAFMUWM

— Sean McGree (@eXeFactor) February 27, 2019
#SynnexAlliance2019 @SynnexAU Taking in the new advancements .. gaming today .. who knows what tomorrow? pic.twitter.com/zZ5GTw187y

— Tracey Keller (@kellerta) March 13, 2019
Shared our excitement:
Thank you @SynnexAu for this awesome night. Great to see so much happening across all the brands where #technology meets #innovation. 2019 Let's Goooo! 💪🏽 pic.twitter.com/9yOiZQj81d

— Tim Vasquez (@_landoghini) March 6, 2019
We are ready, let's talk about how we can help you generate new revenue, new margin and grow your print business. Come and see Lexmark @ Synnex Alliance 2019, ICC Sydney Convention Centre from 5pm tonight! #printing #lexmark #builttolast #synnex #synnexalliance2019 pic.twitter.com/LiNaEE18O1

— Anthony Toope (@aatoope) February 27, 2019
Our Managing Director, Adam Centorrino took part in a panel discussion last night at the #SynnexAlliance2019 event in Melbourne.#centorrinotechnologies #ct #SA2019 pic.twitter.com/V92eG1QmT7

— Centorrino Technologies (@centtech) March 14, 2019
Tuned into our TaaS Podcast Series with Chris Bor; HP and Brad Clarke; Microsoft on the de-factor eco-system and why you should invest in broadening skills and solutions through TaaS:
Lights, camera, action! ✨ Our podcast station is in full swing! #SynnexAlliance2019 pic.twitter.com/C7nCu4pD9r

— Synnex Australia (@SynnexAU) February 27, 2019
And most importantly, connected with us online using our event hashtag #SynnexAlliance2019!
All in all, #SynnexAlliance2019 has been a fantastic time to connect, network and collaborate with our valued partners and vendors and discover more 2019 innovative technologies.
Stay tuned for more event recaps if you missed out on all the action.
If you want to delve any deeper on TaaS, our April TaaS and Digital Transformation events will allow channel partners to look at some of the possibilities, pitfalls and opportunities digital transformation is creating right now.
Register your place here.