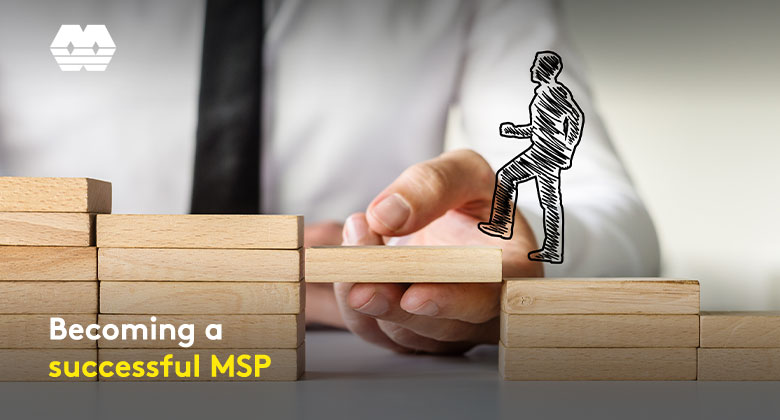 No matter where you are in the MSP space, it always pays to be prepared.
Even MSPs who are immersed in the latest technology trend can find it difficult coping with ongoing changes in the IT world.
The opportunity is there for MSPs to expand their business and increase value to customers.
It just takes turning challenges into opportunities and the willingness to alter strategies to stay nimble.
Weathering the change
Business leaders and IT decision-makers are seeing the value that MSPs are bringing to the table.
Our last blog on the first two steps to becoming a successful MSP sets the trail on how to get started on the path of MSP success.
Here are a couple more steps we think can help:
Step 3: Back up and disaster recovery for an MSP
Another essential service that can help MSPs grow incremental revenue and improve customer retention is backup-as-a-service.
The power to restore from any point in any time to any device, anywhere is a big selling point.
Carbonite Endpoint 360 is a comprehensive, automatic backup solution for all your endpoint devices and the data that resides on them, including data in Microsoft O365.
This helps back up and recover the entire system to a new device without disrupting end users and ensures employees can continue working productively when disaster strikes.
This means:
– unlimited, automated backup for Microsoft cloud assets
– visibility and control over protected content,
– Granualr resort, in or out of place
– Strong security posture
The central management and control features offered to reseller partners can help simplify deployment, while flexible configuration options reduce the impact of backup workloads travelling over the network.
The great thing about Carbonite Endpoint 360 is that there are no entry costs.
It has a pay-per-use business model and flexible deployment options.
This can quickly get you into new accounts, creates new incremental revenues and grows your business fast.
Other than backup, having a Disaster Recovery (DR) strategy in place is crucial to ensure business continuity.
Are you asking your customers if they have a documented business continuity and DR plan?
Are they testing their DR solution regularly?
If your answer is not 100% to both questions, then you need to start asking these questions.
Carbonite offer a disaster recovery solution, Carbonite Recover, that lets you protect your customers' critical workloads by instantly recovering their critical IT systems, applications and data, utilising the Carbonite cloud infrastructure.
DR is a must-have and will help you get new business from existing accounts.
Step 4: Wrapping everything up under one single contract
Finally, the most valuable tool you will need is the ability to bill all products and services under one payment.
How does this benefit you?
Wrapping all your products and professional services into a single contract helps build protection around your customer base from the competition.
This also enables MSPs to sell more and earn more margins.
Synnex reseller partners can do that through Managed Services Finance.
Managed Services Finance provides the missing link that allows supply customers with a single monthly payment covering infrastructure, software, support and professional service's needs.
Help your customers shorten the IT refresh cycle and win more business with finance options.
So far, we have identified four steps and a range of cloud solutions that can help you become a successful MSP.
We hope that this will give you some guidance on how to build and grow your MSP business and channel footprint.
If you have any questions, comment below, contact our Synnex Cloud team team@synnexcloud.com.au or visit our Synnex Cloud marketplace website.