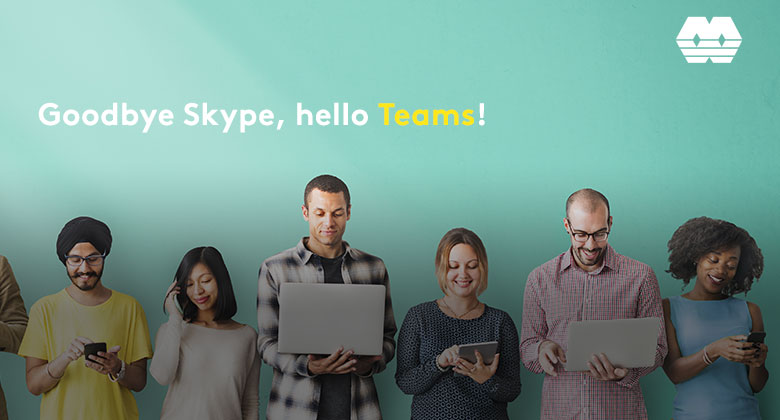 Meetings bring together two or more people, either in-person or digitally, and can represent over a quarter of the average work week.
Yet, almost 60% of meeting attendees say they need more from their meeting experience because:
– 55% of meetings can be hard to schedule and start,
– 54% of meetings have technical challenges and
– 57% of people feel meetings are unproductive.
The costs of ineffective meetings can really sting.
In a time of intense global competition, where the quality and speed of decisions can mean the difference between failure and success, it is imperative that meetings are beneficial and fruitful for all parties involved.
In March 2017, Microsoft launched Microsoft teams.
This is a complete chat and online meetings solution where you can host audio, video and web conferences, and chat with anyone inside or outside your organisation.
Microsoft Teams makes teamwork easier.
You can share files with popular Office 365 applications like Word, Excel, PowerPoint, OneNote, SharePoint and Power BI.
You can Integrate applications from Microsoft and third-party partner services to tailor your process; increasing teamwork and productivity.
The plan for Microsoft Teams is to become the primary client for intelligent communications in Office 365, replacing Skype for Business Online over time.
Teams features
In recent weeks, Microsoft announced that they have completed their roadmap to bring the features and functionality of Skype for business online into Microsoft Teams.
From enlisting your project team to preparing your users and executing the upgrade, Microsoft has created a simple, intuitive success framework to upgrade and help optimise your transition to Teams.
With practical guidance to help you get started, Microsoft Teams addresses messaging, meeting and calling needs with more than 200,000 organizations currently using Teams.
This includes nearly 70% of enterprise customers who use Skype for Business Online.  
In recent weeks, Microsoft added new communications features to Teams, including;
Meetings:
– cloud-based meeting recording,
– support for larger meetings of up to 250 participants,
– federated meetings, which provides you with the ability to host meetings across multiple organisations,
– meeting lobby so you can qualify dial-in callers before they join your meeting and,
– dial-in fall back support to ensure you can join a meeting even in the event of network issues.
Calling:
– Boss and delegate support,
– call queues,
– auto-attendant,
– consultative transfer,
– do-not-disturb breakthrough,
– the ability to forward a call to a group and out of office support.
In addition, direct routing enables you to bring your own telephone service to Teams, which along with Calling Plans provides you additional choice for dial tone in Microsoft Teams. 
Enhancements to the devices ecosystem for Teams:
– an update for Skype Room Systems that enables you to join Teams meetings;
– teams app for Surface Hub in the Microsoft Store,
– teams conferencing gateway, which allows you to use existing Skype for Business certified SIP-based phones with Teams and,
– USB HID support for Teams, enabling you to answer, end calls and control mute and volume using USB peripherals.
In addition, cloud video interop services to support Teams meetings with existing VTC systems are underway with offerings from Pexip, Polycom, and Blue Jeans to be generally available later this calendar year.
With a clear agenda, open communication, the encouragement of team interaction and the features of Microsoft teams, you can walk away from meetings with confidence and a tangible outcome.
If you already use Teams, leave a comment below and let us know about your experience.
Make the move to Teams now by emailing the Synnex CSP team at csp@au.synnex-grp.com or call 1300 100 108.