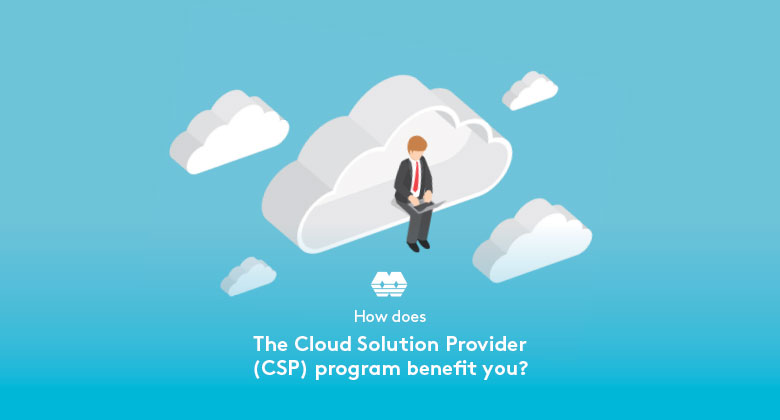 67 per cent of customers expect to purchase a wide variety of cloud services from a single vendor.
Way before CSP, there were 3 ways to buy Office 365:
1. Direct Model – Purchased through Microsoft websites, which has an advisor fee.
2. Open Program – Purchased through Synnex; a yearly payment for small to medium-sized businesses.
3. Enterprise Agreement (EA) – Purchased through LAR, with a 3-year commitment fixed price for Enterprise.
In each of these models, resellers never really had the complete control over the sales relationship from start to finish.
The billing was dictated by Microsoft and in many cases, support and management were also steer headed by Microsoft.
This is no longer the case with CSP.
By combining licensing, provisioning, development support and billing all under the same model, you can get ideal options for Managed Service Providers (MSP's) under the 1 roof.
Any Microsoft partner can become a CSP partner (System Integrator or ISV) with a subscription to cloud products (O365, EMS, Dynamics 365 (CRMOL, AX), Windows Client OS and Azure).
CSP benefits to the Synnex Reseller:
– Create the solution and directly bill customers
– Directly provision and manage subscriptions from the Synnex Portal
– Be the first point of contact for customer support and
– Build an ongoing customer relationship
CSP benefits to the end user:
– Be completely flexible and change plans & seats as required
– Always up and running within Microsoft SLA
– Pay only for what you use
– Monthly and annual subscription-based services
What services are available?
– Office 365
– Power BI
– Microsoft 365 Business
– Microsoft Azure
– Windows 10 Enterprise Edition
– Dynamics 365
– Enterprise Mobility and Security
Why Synnex CSP?
There are so many reasons to sign up for Synnex CSP. Here are just a few:
– Enablement programs
– Presales and Tech support
– Promotions and partner incentives
– Use your existing account on Synnex's e-Commerce portal
– New Customer touchpoints for more revenue
How can you become a CSP reseller?
To learn more, get in touch with the Synnex CSP team on csp@au.synnex-grp.com