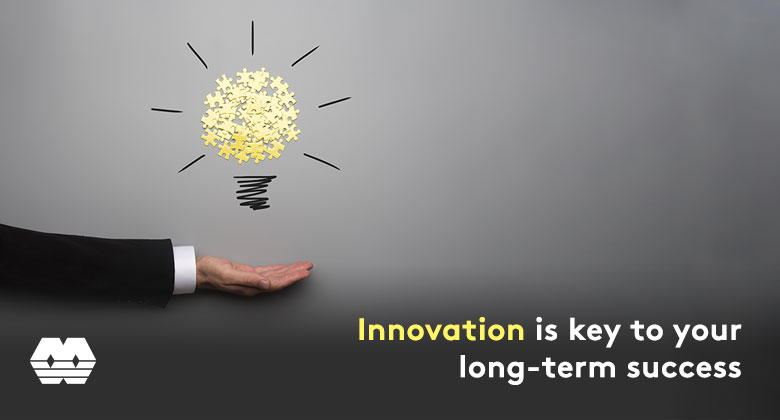 Enhancing performance and business success through innovation
We hear the term innovation all the time, but what does it really mean?
For some, innovation is about coming up with the next big thing and collaborating to generate new creative ideas.
For others, it's keeping updated on industry trends and current news to always remain one step ahead of the competition.
However, there is more to it than that.
Plainly put, innovation is the introduction of new things or methods.
As broad as this may seem, there are two key elements of this definition: "new" and "methods".
Innovation is as much about new ideas as it is about processes and systems that compliment them.
According to Forbes, this relates to the act of regularly modifying business models and adapting to changes to achieve better products and services.
IT industry experts often ask themselves how to increase profit, maintain reputation and business success all at the same time. Does this sound familiar?
Well, innovation is at the heart of this!
Threats to security are a barrier to innovation
The reality of small-medium businesses (SMBs) today is that cyber-security and data protection are top of mind.
According to Small Business Trends, 43 per cent of cyber-attacks target small businesses while 60 per cent of small companies go out of business within six months of a cyber-attack.
When you run a small business, you might feel less targeted by cyber criminals but, nothing could be further from the truth.
In reality, SMBs are much more prone to attacks; making it a struggle to innovate from a financial, technical, strategic and creative perspective.
Introducing to you, the new Microsoft 365 Partner Launchpad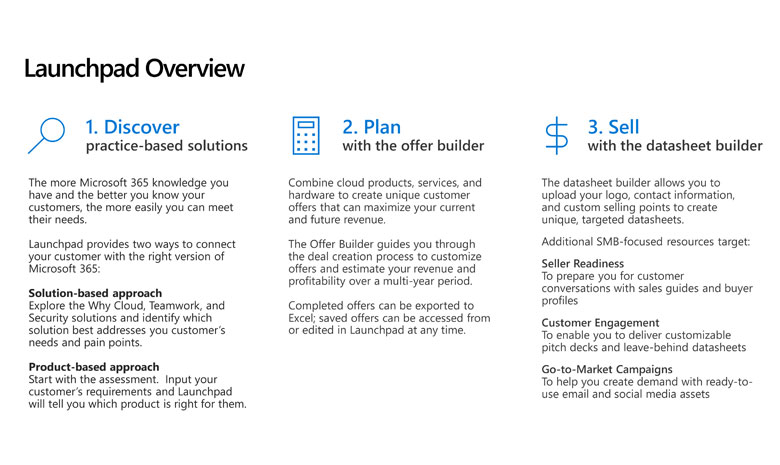 If you serve SMB customers and don't have an innovative dedicated marketing team, Launchpad is an integrated tool that can help you attract customers, build offers and drive profitable sales.
It is important that businesses have tools in place that helps fuel innovation and enhance performance for long-term success.
Launchpad can help you expand your knowledge on solutions across practice areas from security and compliance to teamwork to create an environment that encourages development.
This tool applies a practical approach to preparing for and closing sales faster, with improved profitability.
You can combine cloud products, services and hardware to create compelling customer offers, guide customer conversations and generate customer demand.
Microsoft 365 helps you safeguard your data so that you:
– help protect against security threats,
– help secure your business data from accidental leaks,
– control who has access to your business information and
– gain peace of mind that you have tools to help you remain compliant and focus on other business priorities.
Ready-to-use sales and marketing materials
Targeted Microsoft 365 small business resources can set the stage for you to engage in and shape meaningful customer conversations and launch go-to-market-campaigns.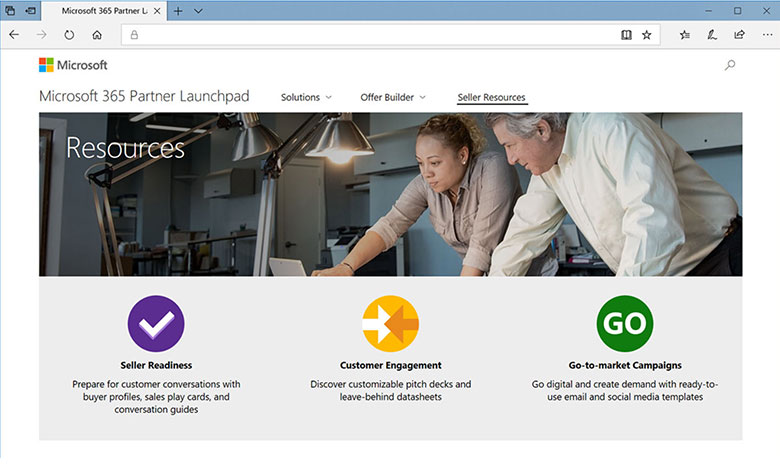 Seller readiness
– Prepare for customer conversations with buyer profiles, sales play cards and detailed conversation guides.
Customer engagement
– Discover customisable pitch decks and leave-behind datasheets for good.
Go-to-market campaigns
– Go digital and create demand with ready-to-use email and social media templates that take your strategy to the next level.
Datasheet builder
– The new launchpad datasheet builder tool makes it simple to generate customized datasheets for your small business customers.
– Datasheets can help small business customers understand Microsoft 365 benefits and your offerings in the context of their specific needs.
– Add your logo and selling points to generate a custom datasheet highlighting your unique capabilities to customers.
Compelling datasheets in four easy steps:
1. Select either the security and compliance or teamwork practice area.
2. Add the unique value proposition of your offering.
3. Upload your company logo and contact information.
4. Deliver your newly created, two-page datasheet digitally as a PDF or print to use as a leave-behind following a customer presentation or as a handout at events.
Such a tool can assist you in bridging gaps that allow you to excel long-term. Take advantage of all the Microsoft 365 Partner Launchpad tools and try the new Launchpad datasheet tool today.