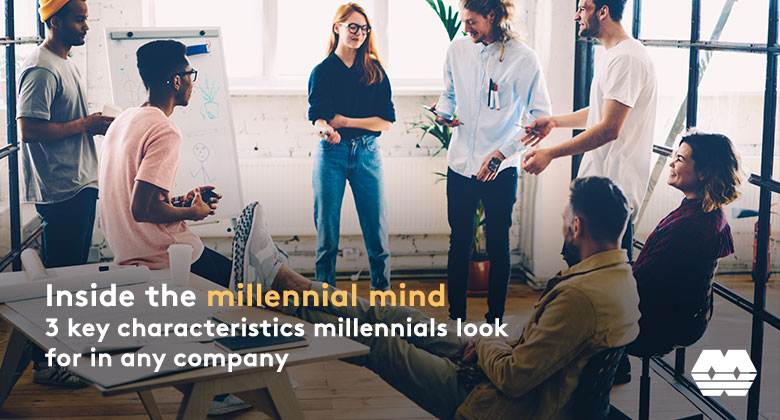 3 key characteristics millennials look for in any company
Millennials, having grown up in an era of new technologies and changing socio-cultural environments, are nothing like any other generation.
The generational differences are apparent when it comes to the workplace.
When compared to previous generations of workers, millennials hold drastically different work values as well as expectations towards their employer and the workplace.
Despite millennials often being labelled as "spoilt and entitled", companies must grapple with the fact that traditional notions of the workplace must be transformed.
Here are three key characteristics to note when understanding what millennials look for in an organisation:
1. Flexible Working Arrangements
According to Deloitte's 2018 Millennial Survey, 55% of Australian millennials consider this to be one of the most important factors when considering which organisation to work for.
Millennials value work-life balance.
They believe the freedom to work from any location and not be tied down by strict work hours helps promote their well-being.
2. Professional Development & Learning Opportunities
Deloitte's survey also shows that providing continuous learning opportunities is crucial in retaining talent within the company.
Findings show nearly half of all respondents who intend to stay longer with their current company, receive on-going training and development in the workplace.
Millennials highly appreciate employers who focus not only on pure profit making but also nurturing and developing their people. They are eager to take on every opportunity that can help them progress faster and further in their career.
3. A Positive & Collaborative Work Culture
Having grown up in a culture of connectivity, millennials enjoy the process of working with different individuals as a team, whether it be brainstorming ideas or tackling challenging problems together. It has been said that an overwhelming majority of them would prefer a fun and collaborative company culture to a competitive one.
The future is millennial.
Deloitte estimates by 2025, millennials would comprise 75% of the global workforce.
This implies that for companies to stay competitive, they must start embracing digital technologies that help power a modern and attractive workplace. 
In July 2018, Synnex partnered with TeamViewer to help resellers transform their workplace and optimise workflows.
With the use of cloud-based technologies, the leading global software provider enables companies to access and control their desktops from anywhere in a secure and hassle-free manner.
Their state-of-the-art remote access solution also includes video conferencing, file and screen sharing features.
This brings colleagues across the globe together for greater communication and collaboration; making it one of the must-have tools for the modern workplace.
To learn more about how TeamViewer can help make your business "millennial-friendly", get in touch with our Synnex Cloud team today on team@synnexcloud.com.au