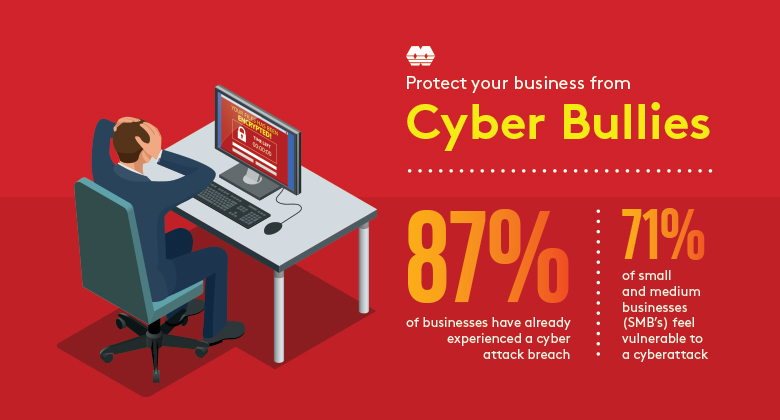 A recent survey conducted by the Microsoft 356 team on small and medium-sized businesses (SMBs) found that 71 per cent feel vulnerable to cyber attacks. This jumps to 87 per cent for businesses that have already experienced a breach.
Many SMBs are concerned about their ability to protect their business from cyber attacks. However, they lack basic protection against the most common threats.
Despite these concerns, only 41 per cent of SMBs can remotely remove data from a lost or stolen device. The survey also found only half use email encryption. These are two capabilities considered essential by larger enterprises.
SMBs say they lack the expertise to implement sophisticated IT solutions, seen as unaffordable and too complex.
MICROSOFT 365 BUSINESS—BUILT FOR SMBS
To further protect SMBs from cyber threats and safeguard sensitive information, today we're announcing the addition of advanced security features in Microsoft 365 Business.
This gives businesses with up to 300 employees an affordable, comprehensive solution for empowering employees and safeguarding business data.
Microsoft 365 Business includes Office 365 for productivity and collaboration, plus device management and security capabilities to protect company information across the devices people use for work.
Now we're adding new ways to protect against phishing and ransomware and prevent unintentional leaks of business data.
PROTECT YOUR EMPLOYEES IN THE CYBER WORLD FROM PHISHING AND RANSOMWARE.
Cybercriminals use phishing and ransomware attacks to get people to download viruses and malware or unwittingly give out sensitive information.
These attacks can also cause significant issues for a business, ranging from loss of customer trust to financial woes.
To help bolster your defences against phishing, malware and viruses, Microsoft 365 Business now includes advanced protection from cyber threats, including:
– Sophisticated scanning of attachments and AI-powered analysis to detect and discard dangerous messages.
– Automatic checks of links in an email to assess if they are part of a phishing scheme and prevent users from accessing unsafe websites.
– Device protection to prevent devices from interacting with ransomware and other malicious web locations.
PREVENT UNINTENTIONAL LEAKS OF BUSINESS DATA.
Most SMBs handle sensitive information, with over 50 per cent collecting and storing social security numbers and 29 per cent handling bank account details.
Preventing unintentional leaks of these types of sensitive information can be a challenge, despite the best efforts and good intentions of employees.
To help you protect your sensitive business data, we're adding the following capabilities to Microsoft 365 Business:
– Data loss prevention policies to identify, monitor and protect sensitive information like social security and credit card numbers.
– Information protection in Outlook to let you and your employees manage access to sensitive data in emails. For example, you can set encryption rules to prevent an email from being forwarded, copied or pasted into other programs.
– Email archiving and preservation policies to help ensure data is properly retained with continuous data backup and compliance.
– The ability to enforce BitLocker device encryption. This is on all Windows devices to help protect against data theft or exposure if a protected device is lost or stolen.
Microsoft 365 Business also offers industry-leading privacy protections. You remain the sole owner of your data, with controls over who in your business can access which data.
Want to learn more about safeguarding your business?
Listen to a Microsoft 365 Business webinar and click here to learn about the Microsoft 365 Business EOFY Visa cards promotion, where you can get up to $500 in Visa Cards when you sell Microsoft 365 Business under the Synnex Microsoft CSP program.